Our areas of expertise cover most areas of law and taxation:
Family law: inheritance, donation, marriage contract, PACS, divorce, anticipation of succession,
Real estate: purchase, sale, resale, common acts of apartment, house, land,
Commercial Real Estate: real estate development, building land, subdivision, land division, planning law, construction, institutional real estate, commercial real estate,
Wealth management, private management, tax optimization, organization and transmission of wealth, optimization of private and professional wealth in France and abroad,
Company law, and company law: constitution of SCI, transfer of shares, operation on capital (increase, reduction, contribution).
Our main concern is the satisfaction of our customers, so we commit ourselves:
To remind or recontact our customers within 24 hours, whatever the request
To propose signature appointments within a limited time, within 10 days maximum
To be there for our clients in important appointments, to give them advice and security
To communicate on the progress of the file, at each intermediate step of the instruction
To move directly to our customers, for the less mobile of them
To take the time to receive our customers free of charge to advise them during the information meetings.
You have direct access to your notary, without intermediary, for unparalleled responsiveness, and quality advice, Monday to Friday, from 09:00 to 18:00, and Saturday morning by appointment.
Networks and certifications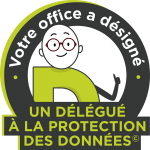 Office that has appointed a Data Protection Officer
Office that has appointed a Data Protection Officer